Sustainability is an integral part of Galenica's corporate management. 
This is based on the steadfast belief that proactive and responsible action contributes significantly to the long-term economic success of a company and has an impact both within and outside a company.
Our sustainability principles
We firmly believe that our Group can achieve long-term economic success only if we also bear social responsibility and use natural resources efficiently and respectfully.
This conviction is reflected in the three key sustainability principles of Galenica, in addition to our customer promise. Supported by the Executive Committee, they form an essential part of the Group's corporate culture.
Company value



We increase the company's value in the long term by acting sustainably.


Employees
We commit our employees to act responsibly and ensure a safe, flexible and supportive working environment.


Resource efficiency
We use resources respectfully and efficiently and reduce negative environmental impacts.
With these guiding principles, we educate and motivate our employees to continuously increase our resource intensity, efficiency, capacity for innovation and, ultimately, competitiveness. At the same time, the lively, ongoing dialogue with the various stakeholders helps to identify requirements and expectations at an early stage and to maintain Galenica's strong reputation.

Organisation
The Board of Directors bears ultimate responsibility for the economic, ecological and social impact of the Galenica Group. The Governance, Nomination and Sustainability Committee advises the Chairman of the Board of Directors and the entire Board of Directors on sustainability.
Governance, Nomination and Sustainability Committee
The Committee consists of the Chairman of the Board of Directors, the Vice Chairman and other members who are elected by the Board of Directors at the suggestion of the Chairman of the Board of Directors. Among other things, the Committee reviews the relevance matrix on an annual basis, adopts the sustainability goals and ensures that the corporate strategy is geared towards sustainable management. The Executive Committee is responsible for implementing the sustainability goals and integrating sustainability into day-to-day business.
Sustainability Committee
We have formalised our commitment to social responsibility in the form of the Sustainability Committee (SC). The SC plays an advisory and coordinating role and develops concrete proposals for the implementation of the sustainability strategy for the attention of the Executive Committee and the Board of Directors. The main task is to systematise internal sustainability management and external reporting and to ensure that the measures are implemented. The Committee is structured in such a way that, in addition to covering all key sustainability topics, all Business and Service Units and the Executive Committee are also represented on the Committee by a responsible person.
Relevance matrix
In 2017, we identified the key sustainability topics of the Galenica Group internally for the first time and evaluated them from the perspective of the Galenica Group and its key stakeholders. Following in-depth discussions by the SC and the Executive Committee, the material topics were further expanded and clarified in 2020.
Finally, we carried out a materiality process in accordance with GRI Standards, with the involvement of external stakeholders for the first time. Internal and external stakeholders – investors, partners, suppliers, customers, associations, employees, public authorities, as well as members of the SC, the Executive Board and the BoD – evaluated the relevance of the topics and the impact of Galenica's business activities on the social, ecological and economic environment.
Galenica's relevance matrix comprises thirteen topics.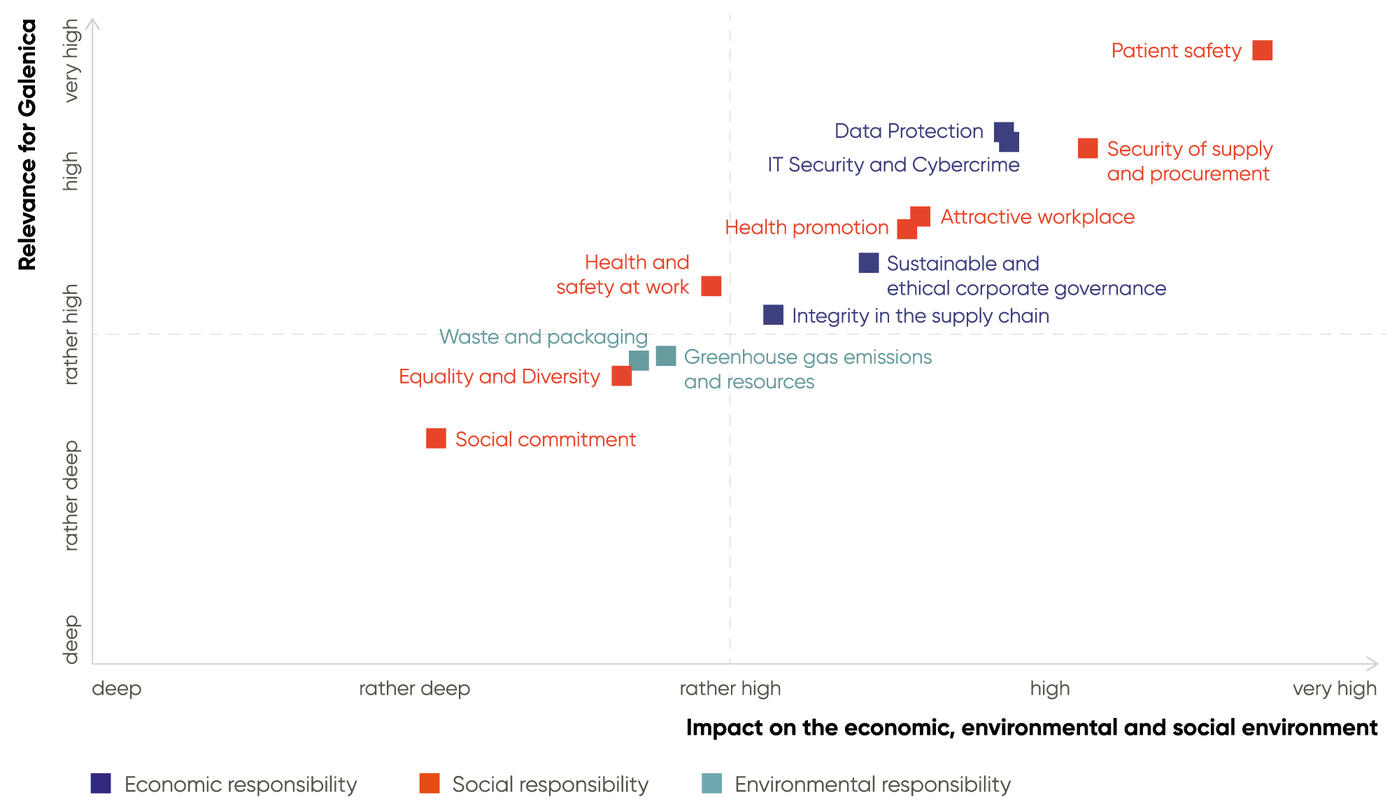 Our sustainability goals
The SC has defined specific targets for all material sustainability topics, which were approved by the Executive Committee and the Board of Directors at the end of 2021.
In addition, in the financial year 2021 the topic of sustainability was integrated into the goals of the strategic programmes and therefore firmly anchored in the corporate strategy.

Corporate management
We train all employees in compliance at least once a year.
Twice a year, we carry out measures to raise employee awareness in the area of data protection.
We make our employees aware of IT security and cybercrime.
Patients
We will increase the use of Clinical Decision Support Checks (CDS.CE) to 500 million by 2025 and 1 billion by 2030.
We will make patient information (PIL) on all Algifor® preparations and important cold products from Verfora available online in two other languages that are relevant for Switzerland by 2022.
We will review the compliance of our top ten suppliers with the Supplier Code of Conduct every three years from 2025.
We are increasing the number of healthcare services provided by 10% annually until 2027.

Employees
We will increase the motivation rate of our employee survey to 75 out of 100 points and the participation rate to 75% by 2024.
We are reducing the time-to-hire for pharmacy staff and IT (difficult hires) by 10% by 2024 and Group-wide staff turnover by 6%.
We will improve diversity in all Service Units and keep the proportion of female managers at 50%.
Reduction in the number of cases due to mental illness by 5% by 2024.
Reduce the absence rate for occupational and non-occupational accidents by 10% by 2024.
Environment
From 2025, we will be sourcing 100% of our electricity from renewable sources at all our locations.
We will reduce the greenhouse gas emissions produced by all our operations, processes and supply chains by 25% by 2025 and by 50% by 2030.
We will replace 40% of the fossil fuels in our vehicle fleet with renewable alternatives by 2028.
We will reduce our municipal waste by 50% by 2025.
Social commitment
As a strong partner in the Swiss healthcare market, Galenica is committed to the well-being of patients at all levels. The company is also involved in various social projects. Since January 2022, the Galenica Group has been the main partner of the crowd donating platform there-for-you.com.
there-for-you.com is a neutral platform on which social and humanitarian projects as well as initiatives from the fields of climate protection, animal welfare and child welfare are presented. Galenica is focusing its commitment in this area on current social and humanitarian projects. The specific projects that Galenica supports are determined together with the employees of the Galenica Group.

The aim of there-for-you.com is to enable as many crowd donating projects as possible to be implemented and thus actively help where help is needed.
In doing so, the platform undertakes to select the individual projects carefully and conscientiously. With regular updates and videos at the start and end of the project, there-for-you.com ensures maximum transparency and shows supporters where and how their money is used.

This commitment is a good fit for Galenica:
A focused commitment that benefits a range of projects.
This digital form of fundraising is in line with its digitalisation strategy.
The applicants are actively involved.
Sustainable Development Goals
The Sustainable Development Goals (SDGs) form the global reference framework for sustainable development. The Galenica Group is committed to the SDGs. As Switzerland's leading fully integrated healthcare provider, we make an important contribution to SDG 3 (Health and Well-being). This goal is at the heart of our business activities and is consistent with our customer promise to support people at every stage of their life on their journey towards health and well-being. We also contribute to SDG 8 (Decent Work and Economic Growth), SDG 12 (Responsible Consumption and Production), SDG 13 (Climate Action), SDG 10 (Reduced Inequalities) and SDG 16 (Peace, Justice and Strong Institutions) through our corporate activities.
Patient safety and health
Patient safety and health is a top priority for us. With personal and expert advice and a unique range of products and services, we support patients at every stage of their lives, promote their well-being and enable people of all ages to lead a healthy life in accordance with SDG 3.
Emissions and climate change
We promote the use of renewable energies in distribution, the use of public transport and electromobility by our employees, always take measures to increase energy efficiency into account and check the feasibility of installing photovoltaic systems during renovations. In addition, we have defined specific targets for reducing greenhouse gas emissions, replacing fossil fuels and using exclusively renewable energy sources at all our operating sites. We also rely on supply chain partnerships in accordance with SDG 17 to promote recycling with regard to the climate, water and waste. With these measures, we are contributing to the fight against climate change.
Waste and recycling
In addition to traditional municipal waste, we also produce medical and chemical waste. The prevention, reduction, recycling and professional disposal of waste is of central importance to us. We also contribute to biodiversity conservation by disposing of medications properly. Environmentally friendly waste management forms the basis of responsible consumption and production.
IT security and cybercrime
With the increasing digitalisation of the healthcare system, the risk of cyberattacks is increasing. This is why IT security is a critical topic at Galenica. As a healthcare provider, we process sensitive information and data. We ensure that these are protected against unauthorised access and unauthorised changes or loss. Protecting IT systems is key to a peaceful and inclusive society as well as strong institutions.
Data protection
Protecting patient and customer data is a top priority for us. We respect and protect the personal data and privacy of patients when processing their data. Our Data Protection Policy firmly includes general rules on the organisation and responsibilities of the Galenica Group with regard to data protection. Data protection is an important basis of a peaceful and inclusive society as well as strong institutions.
Reliable procurement and supply chain
We work closely with suppliers to ensure the greatest possible availability of medicines. An IT-based scheduling system also helps us optimise our procurement and logistics processes. Reliable provision of medicines to the population is key to promoting health and well-being.
Employee motivation and development
Our employees play a key role in our success. We consistently promote employee motivation and development by offering our employees attractive and fair employment conditions, modern and flexible working models as well as various training and education programmes and opportunities. We also support the next generation of skilled workers by training apprentices. Through all these measures, we support sustainable labour and economic growth in Switzerland.
Securing skilled workers
Securing skilled workers in the healthcare professions and IT sectors is a major challenge in Switzerland. Our recruitment strategy includes measures to promote the company's image as an employer, positioning and university marketing for pharmaceutical students in order to secure skilled workers. In doing this, we support sustainable labour and economic growth in Switzerland.
Health and safety at the workplace
The physical and mental health of employees is very important at Galenica. This is why we take all possible precautions to protect the health and safety of all employees in the workplace. We also operate preventive case management in order to identify potential health risks at an early stage and ensure a swift return to work after an illness or accident. We thus make a significant contribution to the health and well-being of our employees.
Diversity and equality opportunity
We are committed to diversity and equality and bring together people from 82 countries and all age groups. Three-quarters of employees are women. Our Code of Conduct states that we do not tolerate any discrimination or harassment. We also ensure that salaries are equal between men and women. We ensure equal opportunities and are committed to reducing inequalities. In doing this, we also contribute to SDG 5 (Gender Equality).
Corporate Governance
Good and transparent corporate governance is crucial for us to manage the company effectively and efficiently. In addition, corporate governance forms the basis of a peaceful and inclusive society based on the equal participation of all people as well as strong institutions.
Compliance
We attach great importance to conducting our business activities in an ethical and legal manner. All our business activities are carried out in accordance with the applicable legislation. In doing this, we are contributing to a peaceful and inclusive society.
Value chain
The Galenica Group's business activities have an economic, social and ecological impact throughout the entire value chain of the healthcare market. Galenica endeavours to strengthen the positive impact throughout its value chain while continuously minimising any negative effects.
Production
The medications sold by Galenica are mostly produced by third parties, though its own pharmacies and the Bichsel Group also manufacture individual medicines and medical devices for patients. The Bichsel Group makes high-quality products for hospitals, nursing and care homes and Spitex organisations. The quality of the medications as well as patients' safety and health are crucial. Furthermore, the manufacturing of medicines has an impact on people and the environment. Galenica ensures that its business partners meet their social and ecological responsibilities, and has therefore developed a Supplier Code of Conduct that encompasses aspects related to ethics, labour law, health, safety, quality and the environment. Producers are also regularly assessed with regard to quality.
Packaging
Galenica predominantly distributes and sells pre-packaged third-party medications. Exceptions are the packaging of medicines manufactured by pharmacies themselves, the Bichsel Group and drug blister packaging by Medifilm. Medifilm is the Swiss pioneer in the customised packaging of medicines and food supplements, which it carries out on behalf of pharmacies according to treatment plans for chronic and long-term patients. The work requires a high level of precision and efficient use of resources (materials and energy), both of which are optimised by Medifilm through its quality and environmental management system.
Logistics
Pre-wholesaler Alloga provides warehousing, logistics and distribution services on behalf of its industrial customers. The company primarily serves wholesalers, including the wholesale businesses of Galexis, Unione Farmaceutica Distribuzione (UFD) and Pharmapool, as well as pharmacies, physicians, hospitals and care homes throughout Switzerland. Alloga works with around 80 pharmaceutical and healthcare companies, many of which are leading multinationals. Galexis is the leading wholesaler in the Swiss healthcare market and supplies pharmacies, medical practices, drugstores, care homes and hospitals. From its two distribution centres in Niederbipp and Lausanne-Ecublens, the company delivers over 90,000 referenced healthcare products to customers. Unione Farmaceutica Distribuzione (UFD) meanwhile, is the most important and only full-range healthcare logistics company in Ticino. Finally, physicians' wholesaler Pharmapool supplies and supports medical practices with medicines, consumables, laboratory products and furnishings. Finally, the Bichsel Group supplies its home-care patients and customers via its own fleet of vehicles.

All five companies ensure that medications and healthcare products reach pharmacies, physicians, drugstores and other medical institutions quickly and safely. Patient safety is also guaranteed for temperature-sensitive medications thanks to an uninterrupted cold chain. Distribution requires a large amount of fuel and emits greenhouse gases, pollutants and noise. Customer returns also create waste, while inventory management and motorised logistics entail an increased risk of accident. The companies mentioned therefore not only comply with Good Distribution Practice (GDP) guidelines, but also ensure a systematic approach to safety and environmental management.

Marketing and information
The Galenica Group markets and distributes own and partner brands via Verfora and G-Pharma. The portfolio includes brands such as Perskindol®, Anti-Brumm®, Algifor® and Merfen®. Verfora also distributes in-licensed products from international partner companies, sometimes on an exclusive basis, such as the Vicks® products from Procter & Gamble. The main societal implications at this level of the value chain concern patient safety and legally compliant product promotion. For this reason, the effects and any side effects of own medications on the market (pharmacovigilance) as well as the accuracy of product characteristic summaries are continuously monitored.

HCI Solutions develops software solutions for pharmacy management as well as tools to securely handle, communicate and distribute sensitive health and medication data. Its databases include over 200,000 products and enable healthcare providers, authorities and insurers to exchange information via a single platform. With these innovative, digital solutions, such as the Clinical Decision Support Check (CDS Check), Galenica is making an important contribution to promoting a safer, more efficient healthcare sector in Switzerland. Here, too, patient safety and the protection of sensitive data are critical. HCI Solutions therefore conforms to the highest security standards in software development as well as the Swiss Data Protection Act.

Pharmacies
Galenica operates Switzerland's largest pharmacy network, with over 500 own, joint venture and partner pharmacies. These include the Amavita and Sun Store pharmacies as well as the Coop Vitality pharmacies, which are operated under a joint venture. In addition, the company Winconcept supports independent pharmacies operating under the Feelgood's brand. Together they serve around 100,000 customers daily, offering them a wide range of medications, toiletries and beauty products as well as various on-site healthcare services and tests. The range of services is complemented by specialty pharmacy Mediservice, which specialises in dealing with people suffering from chronic and rare illnesses; the Bichsel Group, which focuses on home care services in the field of home dialysis and home nutrition; and Curarex Swiss, which specialises in the care of patients with advanced Parkinson's disease.

Patient safety is also a top priority for Retail. In order to ensure this, the professional competence of our employees is continuously nurtured. In addition, pharmacies require energy and produce waste, for example because of old and unused medicines being returned (see "Use of medicines") and disposed of as hazardous waste in accordance with regulations.

Use of medicines
Galenica has only a limited influence on consumer behaviour and patients' correct use of medicines. However, all Galenica Group companies ensure that patients receive flawless products and accurate patient information, whether through advice in pharmacies or through package leaflets. Expired or unused medicines are an environmental and safety risk, thus cannot be disposed of with conventional industrial waste. Wholesale companies, pharmacies and Medifilm therefore take back unused medications and raise customer awareness of this special form of disposal of medications. Final disposal is carried out by third parties. Medifilm, which has a licence for hazardous waste disposal, is an exception to this.